Dr. Vinuta Kulkarni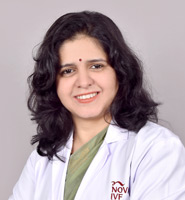 Dr. Vinuta Kulkarni
IVF Specialist in Hubli
MBBS, MS (O&G)
Dr Vinuta. Kulkarni is an infertility specialist who completed her post-graduation with a gold medal in OBG from the JSS Medical College, Mysore & Indira Gandhi Women & Child Health, Puducherry, India (A Central Govt. Institute).
She has received her Infertility (ART) & Hysterolaparoscopy training under Dr Poornima Nadkarni (Gujarat) & Dr Cyriac (Kerala) and has received certified Embryology training from MARC (Manipal).
She has completed certified training in Infertility genetics under Dr G A Rama Raju. She has worked as Chief Infertility & IVF Consultant at Shri Dharmasthala Medical College Hospital & IVF Center for over 5 years. She has succeeded in difficult IUI, IVF/ TESA, ICSI conception and surrogacies.
Her expertise is multiple IVF failures, recurrent implantation failures, severe PCOS, advanced maternal age, complex endometriosis and infertility genetics.
MBBS from Rajiv Gandhi University of Health Sciences, Bangalore, 2006
DGO from JSS University, Mysore, 2012
DNB (OBG) from Rajiv Gandhi Govt. Women and Children's Hospital, Pondicherry, 2014
Fellowship in Assisted Reproductive Technology from Gujarat, 2015
Fellowship in Advanced Laparoscopy , Kerala, 2016
University Gold Medalist in Obstetrics & Gynaecology
Started IVF & ICSI program in SDM Infertility Center, Dharwad
1st to perform Altruistic Surrogacy in North Karnataka